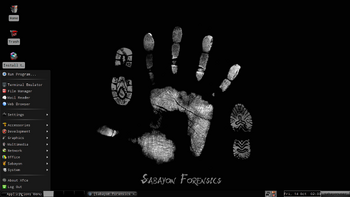 ---
−Table of Contents
Edit
What it is
Edit
Sabayon Forensics is a Linux distribution that was custom made from Sabayon Linux. It uses the XFCE desktop environment. It runs as a Live operating system from a USB flash drive or from a DVD drive. Use the USB flash drive or DVD to boot a computer and have a full complete desktop environment to work in. It can also be installed to a computer. Be sure to see the Getting Started page, Booting page, Examples page, FAQ page and Other Tools page.
It is geared for Law Enforcement to gain access to a suspects computer to scan and retrieve any and all information. It will allow you to do:
various virus scans
gain passwords – linux and windows
scan and view pictures
view and play video media files
access network
copy and save material
full internet access – ftp, browse, communication
crack zip passwords
various file searches
retrieve deleted material
Obtaining Sabayon Forensics
Edit
You can find other mirrors on the official sabayon mirrors page, just have to look in the daily folder to find the isos.
Brazil: Universidade Federal Do Paranà
Czech Republic:
Holland: NLUUG Open Systems, Open Standards
Hungary: Free Software Network Hungary
Italy Garr Consortium
Portugal: Rede das Novas Licenciaturas – Instituto Superior Técnico
USA: Cross-Lfs.org Mirror
USA: Ibiblio Official Mirror
Getting Started
Edit
Booting Page
Edit
Examples Page
Edit
Other Tools
Edit